Senior Event Marketing Executive
Location: Hybrid position in Singapore or Remotely-based
CognaLearn was founded with the vision of replacing traditional lectures with Team-Based Learning (TBL). Our award-winning platform, InteDashboard, equips professors with real-time data to facilitate engaging and interactive learning environments. With a strong presence in the education sector, we currently serve over 100 institutions, including prestigious Ivy League universities and US medical schools.

InteDashboard, a leading provider of online team-based learning platforms, is seeking a highly skilled and motivated Senior Events Marketing Executive to join our team. As a company dedicated to revolutionizing education through collaborative learning experiences, we are committed to empowering educators worldwide.

Responsibilities:

As the Senior Event Marketing Executive, you will play a pivotal role in driving the success of our professional development workshops and online events. The selected candidate will report to our Marketing Director at our global headquarters in Singapore. You will engage and collaborate with educators from all around the world. Your main responsibilities will include:

1. Planning and Execution:

Assist in planning and executing online workshops and marketing events.
Contribute to the development of event promotion and marketing strategies.
Coordinate with both internal teams and external stakeholders to ensure seamless event organization
2. Event planning:
Maintain and update event listings on our company website and platforms like Eventbrite.
Maintain archived event listing page on our website to generate inbound leads
Craft compelling content based on workshop discussions and insights.
Proactively reach out to event attendees to gather feedback and address inquiries.
3. Lead Generation and Community Building:

Drive lead generation efforts through our online workshop program.
Nurture and build a thriving community of workshop attendees by providing valuable content and networking opportunities.


Requirements:
To excel in this role, you should possess the following qualifications and skills:
Marketing Expertise:

Strong background in events marketing, preferably in the education or technology industry.
Proven experience of 1-2 years in planning and executing successful workshops and events.

Communication Skills:

Exceptional written and verbal communication skills to engage with diverse audiences.
Ability to create compelling content based on workshop discussions.

Collaboration and Coordination:

Strong interpersonal skills to effectively collaborate with internal teams and external stakeholders.
Excellent organizational abilities to ensure seamless event coordination.

Results-Oriented:

Proactive mindset with a focus on achieving measurable outcomes and lead generation targets.
Ability to adapt to changing priorities and thrive in a fast-paced environment.

Microsoft skills: Powerpoint, Excel, and Word.
Data-driven mindset with the ability to analyze metrics and make data-informed decisions.
Ability to work in a fast-paced, deadline-driven environment.
Passion for building and engaging online communities.
---
If you are passionate about transforming education and possess the skills to drive impactful events and workshops, we would love to hear from you. Join us at InteDashboard and be part of a dynamic team revolutionizing learning worldwide.
Other openings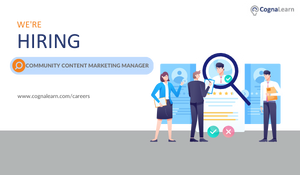 Full-time
CognaLearn was founded to help educators replace lectures with Team-Based.
Apply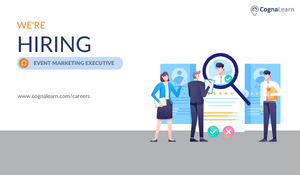 Full-time
CognaLearn was founded with the vision of replacing traditional lectures with.
Apply